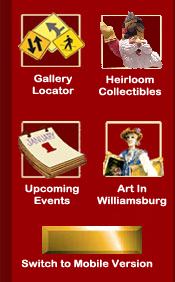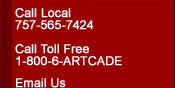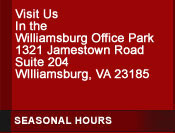 APRIL 2017


<>

WEB ORDERS and
INQUIRIES call
DAILY 1 - 9 ET
1-800-627-8223
or email us

<>

Williamsburg
SHOWROOM HOURS
April


Saturday 11 - 3
And by appointment


<> Call <>
(757) 565-7424
1-800-627-8223





Listed are calendar events for 2016. Each month The Art-cade Gallery spotlights a special part of its large collection of fine American artwork. All monthly shows highlight part of the gallery's permanent inventory. No artwork featured any given month is part of a traveling exhibition. Shows are held during regular gallery hours except where noted and there is NO admission charge.

The Art-cade will always have each particular type of artwork shown on this website (subject to prior sale) although it might not be displayed on the gallery walls.

JANUARY - FEBRUARY 2017
A PERFECT GIFT OF ART
A "Forever" Gift

For your convenience THE ART-CADE GALLERY OF WILLIAMSBURG is open this month on Saturdays from 11:00 - 3 -- and other days and times by appointment.

You can ALWAYS shop our website to find a world of affordable and beautiful artwork. Search the site by artist, image title, or keyword or just search from the "Locate Artwork" box on the home page.

Whether you're across town or across the country, we will gladly ship your favorite piece of art to you ... or order it by phone and stop by the gallery to pick it up.



Website ©2017 King's Court Communications, Inc.
All displayed artwork © by artist and/or publisher
and is for illustration and promotion purposes only.
All rights reserved. None may be used, in whole or
in part, for any other purpose. "Webportfolio" and the
portfolio icon are service marks of The Art-cade Gallery.