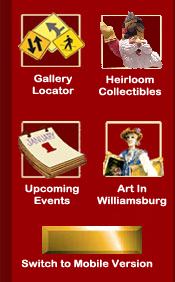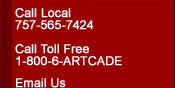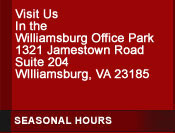 JUNE 2017


<>

WEB ORDERS and
INQUIRIES call
DAILY 1 - 9 ET
1-800-627-8223
or email us

<>

Williamsburg
SHOWROOM HOURS
June

Friday 11 -3
Saturday 11 - 3
And other weekdays
by appointment


<> Call <>
(757) 565-7424
1-800-627-8223





Listed are calendar events for 2017. Each month The Art-cade Gallery spotlights a special part of its large collection of fine American artwork. All monthly shows highlight part of the gallery's permanent inventory. No artwork featured any given month is part of a traveling exhibition. Shows are held during regular gallery hours except where noted and there is NO admission charge.

The Art-cade will always have each particular type of artwork shown on this website (subject to prior sale) although it might not be displayed on the gallery walls.

JUNE 2017

HARRY POTTER BOOK ART CELEBRATES 20th ANNIVERSARY

Twenty momentous years ago on June 26, 1997 the first of the "Harry Potter" books was published.

From The Sorcerer's Stone through the entire series Harry has been depicted by artist Mary GrandPre, drawing the viewer into a magical dreamlike world.

With the advent of a Harry Potter stage play in London and the development of new films, now is the time to make sure you have limited edition prints from the original book series. We have only a few copies from this sold-out series available on a first-come, first served basis. Get yours your now before they are magically gone forever.


17th ANNUAL SUMMER ARTS Festival
Featuring the Art of Walt Disney Studios
June 29 - July 22, 2017

Disney films – both animated and live action – educated us and helped us understand life. Fans get a special treat every July at the Art-cade Gallery in Williamsburg during its "Summer Art Show" and sale of licensed reproductions of Disney Studios artwork.

One connection the public – both the young and young-at-heart – has in common with this art is a life-long connection to the morals and values portrayed in the images.

Come join the fun at this annual mid-year art show featuring limited edition prints from the Disney studios plus other story-telling artists like Dr. Seuss, Charles Schulz and Mary Grandpre (Harry Potter books). These reproductions and originals capture some of the most memorable moments and characters that audiences have ever enjoyed.



Website ©2017 King's Court Communications, Inc.
All displayed artwork © by artist and/or publisher
and is for illustration and promotion purposes only.
All rights reserved. None may be used, in whole or
in part, for any other purpose. "Webportfolio" and the
portfolio icon are service marks of The Art-cade Gallery.